Sound Masking
The purpose of sound masking is to achieve both Speech Privacy and Comfort. Sound Masking introduces a spectrum of noise which gently raises the ambient background sound in order to cover, or mask, speech. Speech Privacy is achieved by raising the noise level to a point that makes conversations unintelligible. Comfort is achieved through the quality and range of the sound produced.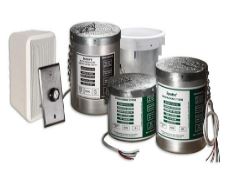 Flexibility
Groupings of sound sources and channels let you customize an almost limitless number of zones for mass notification, masking, paging and music, while maintaining the advantages of complete networked operation and control.
INTEGRATION OF SEPARATE PAGING AND MUSIC CHANNELS
Each channel can be digitally controlled for zone management and changed on the fly without any change in wiring.