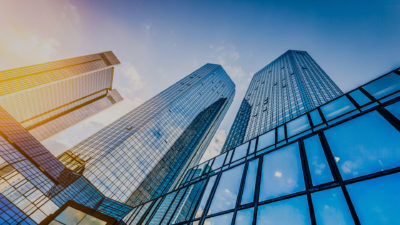 What is Intelligent Building?
As technology advances, intelligent building design becomes more common and may likely be the standard in the not too distant future. If you are planning to construct a new building, incorporating intelligent building functionality may greatly enhance its investment value. If you are upgrading an existing building, retrofitting it for intelligent building functionality may reduce the need for future upgrades, thus realizing a cost saving over time. At Network Products Inc. (NPI), we work with customers whose circumstances widely vary but who can benefit from smart technology.
NPI specialists review the current and anticipated needs of new customers to determine the optimum intelligent building design to meet their goals. We also consider budgets and scalability. We make every effort to maximize the customer's immediate and long term return on investment. To this end, we assist companies in determining priorities to ensure they do not go over budget. Contact us to learn how we can help you reach and maintain your company goals.
What are examples of an intelligent building?
When you speak with one of our NPI specialists, you can gain a greater understanding of how your company's needs may be met by an intelligent building design. Here are five examples of intelligent building design:
1. Improved facility security. An intelligent building design leverages its ability to tie into a network to provide real time security. Autonomous and automated software features integrated with hardware can enable little to no human intervention. An NPI specialist can build out a functionality-rich feature set that can include visitor management services that uses an email client for registration. In addition, wireless intrusion detection solutions are becoming must-haves for many companies.
2. Optimized heating, ventilation, and air conditioning (HVAC) systems. Utility bills often represent the lion's share of a company's operating costs. An intelligent building design reduces these costs by monitoring, automating, and controlling HVAC systems. The key is that a smart system will take into consideration current air temperatures, humidity level, time of day, vacation schedules and company closures to calculate optimal settings while ensuring the comfort of occupants. If there are additional factors that you need your intelligent building to consider, our NPI specialists can likely incorporate them into the system.
3. Remote and automated control of utility-intensive appliances. Whether your company building will have cooling devices for a server room, walk-in refrigeration for perishable foods, or high-voltage heating systems, NPI can help you reduce your operating costs. A smart system can remotely and automatically adjust temperatures for optimum usage. Zone systems are often used to help achieve this.
4. Reduction of electrical usage. An NPI specialist can review your company's electrical needs and determine whether or not it's feasible to schedule load reductions and if your company qualifies for utility company discount programs. Using intelligent building technology it is possible to schedule and manage electricity reductions.
To learn more about the advantages offered by intelligent building technology, contact NPI Connect to schedule a free consultation with one of our specialists.