If you are wondering about the best cables for your network, you may want to consider Cat 6 installation SC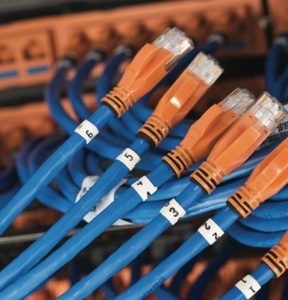 residents trust. Cat 6 cables are more reliable at high speeds than Cat 5 and Cat 5e cables. At NPI Connect, we have been serving customers like yourself since 1986 and our dedicated professionals are ready to make the installation process as simple as possible for you.
How Cat 6 Cables Work
Equipped with four pairs of copper wires, Cat 6 cables support Gigabit Ethernet data rates of one gigabit per second. These cables can accommodate 10 Gigabit Ethernet connections, but only up to 164 feet.
Benefits of Cat 6 Cables
If you are on the fence about installing Cat 6 cables in your office, you should know that they can benefit your network in several ways. Let's take a closer look at some of the way Cat 6 installation in SC can benefit your organization:
Improved Speed: A fast network can help your business run more efficiently, so SC Cat 6 installation may be something to think about. Cat 6 cables can handle a speed performance of up to 250 MHZ. This is because none of the pair of wires in the cables touch each other.
Backward Compatible: Another benefit of Cat 6 installation SC companies depend on is that it is backward compatible. Because the plug and port of a Cat 6 are the same as a Cable 5 and Cable 5e, it is possible to put it in any port that supports both of the cables.
Scalability: If you choose a Cat 6 cable, your network infrastructure will be scalable as your company gets bigger.
Similar Structure With Cat 5 Cable: If you currently have a Cat 5 cable, you may be happy to know that it has a similar structure to a Cat 6 cable. The only difference is that one of the wires in the Cat 6 cable does not come in contact with others. This makes the Cat 6 cable have faster speeds than the Cat 5 cable.
Cat 6 installation SC locals depend on may be more expensive than installing Cat 5 cables, but the benefits you receive from it makes the cost worthwhile.
Hiring Professional Cat 6 Installation
If you do not have the proper experience, installing cables by yourself can be tricky. You may make mistakes that could end up costing you more money. That is why you may want to consider professional Cat 6 installation SC residents rely on. Experienced technicians will come to your office and install the cables in a safe and efficient manner. They may make important decisions regarding the cables, like what path the cables should take and what network speed you will need.
At NPI Connect, our technicians take their craft seriously and will work hard to install Cat 6 cables in your office in a timely fashion.
If you have any further questions about Cat 6 installation SC offers, you may want to contact NPI Connect at 301-548-0300.