EZ Patch is not just another box. Consider it a revolutionary, environmentally friendly way to dispense and manage patch cords for a quick and easy installation. Engineered to save time, expense and a whole lot of frustration, EZ Patch is unlike anything the industry has ever seen!
Features:
Dispenses patch cords quickly and easily: Reduces staging and installation time.
Eliminates trash from opening bags: A green, friendly approach to packaging patch cords.
Provides a more orderly staging approach: Eliminates errors and tangles from traditional staging.
ETL third party tested and verified to TIA/EIA 568C.2 Category 6 component specifications: Ensures Category 6 component performance.
Each cord is factory tested: Ensures every cord shipped meets Category 6 component specifications.
Center-tuned technology: Elevates the performance of Clarity 6 connector union.
Paralign 2 pair-positioning technology: Maintains pair integrity through the plug termination, allowing mating hardware to be designed/tuned to these cords.
Snagless plug design: Protects plugs when pulling through pathways or cable managers.
Premium conductor cordage: Reliable performance and durable cord life.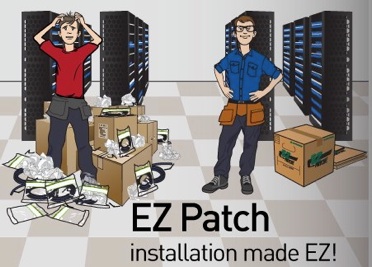 Patch Cord Lengths:
3ft, 5ft, 7ft
EZ Patch 50 pack
9ft, 10ft
EZ Patch 40 pack
15ft
EZ Patch 25 pack
Patch Cords Colors:
Patch Cord Category:
Part Numbers:
Blue -06, Yellow -04, Green -05, Gray -03, White -09
Cat 5e, Cat 6, Cat 6a
-xx designates color (see list above for available colors)

Category 5e
EZC5E03Q50-xx
EZC5E05Q50-xx
EZC5E07Q50-xx
EZC5E09Q40-xx
EZC5E10Q40-xx
EZC5E15Q25-xx
3ft Cat 5e Clarity Patch Cords 50 Pack
5ft Cat 5e Clarity Patch Cords 50 Pack
7ft Cat 5e Clarity Patch Cords 50 Pack
9ft Cat 5e Clarity Patch Cords 40 Pack
10ft Cat 5e Clarity Patch Cords 40 Pack
15ft Cat 5e Clarity Patch Cords 25 Pack

Category 6
EZC603Q50-xx
EZC605Q50-xx
EZC607Q50-xx
EZC609Q40-xx
EZC610Q40-xx
EZC615Q25-xx
3ft Cat 6 Clarity Patch Cords 50 Pack
5ft Cat 6 Clarity Patch Cords 50 Pack
7ft Cat 6 Clarity Patch Cords 50 Pack
9ft Cat 6 Clarity Patch Cords 40 Pack
10ft Cat 6 Clarity Patch Cords 40 Pack
15ft Cat 6 Clarity Patch Cords 25 Pack

Category 6a
EZC6A03Q50-xx
EZC6A03Q50-xx
EZC6A07Q50-xx
EZC6A09Q40-xx
EZC6A10Q40-xx
EZC6A15Q25-xx
3ft Cat 6a Clarity Patch Cords 50 Pack
5ft Cat 6aClarity Patch Cords 50 Pack
7ft Cat 6a Clarity Patch Cords 50 Pack
9ft Cat 6a Clarity Patch Cords 40 Pack
10ft Cat 6a Clarity Patch Cords 40 Pack
15ft Cat 6a Clarity Patch Cords 25 Pack