Since 1963, Nelson Fire Stop Products have been protecting against fire, smoke, water and explosions in military and commercial marine vessels, oil rigs, production platforms, commercial buildings and industrial facilities. Nelson Fire Stop offers the right class of protection with an extensive product line, backed by dedicated service and in-depth knowledge of application needs and local requirements.
Contact NPI today for top grade network products and unparalleled expertise.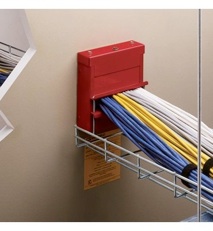 Wiremold FlameStopperFlamestopper Thru-Wall/Floor Fittings provide installers with a variety of UL Classified ready-to-use options for transitioning cables through firewalls and floors to ensure that the integrity of the fire rating is maintained. These fittings have been tested by Underwriters Laboratories Inc. to ASTM E814 UL1479, Fire Tests of Through-Penetration Firestops. The Flamestopper Thru-Wall/Floor Fittings offer a passive fire and life safety system with ratings up to four hours (with or without cables installed) to complement existing sprinkler systems and up to three hours for through floor applications.