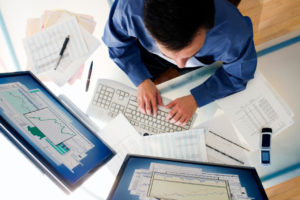 Network Products in Provides WAP Cabling Installation Charlotte NC Companies Rely On
Wireless access points (WAP) can greatly enhance a company's network and communications, but it must be planned, designed, and installed correctly. If not, its advantages will probably not be fully realized and in some instances could cause problems. Our specialists at Network Products, Inc. are highly trained and have a thorough understanding of network communications. Call us to learn more about how we work with clients to help them meet their network needs.
The Planning Process for WAP Networks and WAP Cabling
An efficient and successful WAP installation requires proper planning and design. Our specialists are highly trained to accomplish an installation from start to finish. This includes many considerations, including the following:
The company's business and workflow requirements.

The company's immediate, short term, and long term network and communication goals.

The results of a site survey to identify potential interference sources which a specialist from

Network Products, Inc.

will perform at the client's location.

Existing pain points of the client which might be addressed by a WAP installation.

Integration of new or expanded WAP with existing network infrastructure.
Access Point Installation
Network Products, Inc. specialists can add wireless access points to your existing network. As part of the installation, we will make sure you have all of the hardware and software needed to make it work as expected. After our team completes the installation they will test the network and certify that it is working correctly. We perform installations that we customize for every client based on their needs and current configuration as well a floor plan. Below are some of the main aspects of a typical installation though it may vary for your configuration:
Mounting of the WAPs in their pre-selected locations.

Optional enclosure installation of WAPs for physical security, at client's request.

Mounting of the antennas for each WAP unit.

The connection of each antenna to each WAP.

The connection of cabling between the backbone local area network and each WAP.

The connection of a power supply to each WAP.

The installation and connection of a remote power system, as required.

Testing of each WAP, the network, and related hardware as well as connected wireless devices. Software testing, such as permissions may also be performed by our technicians, based on your network's configuration.

Modifications or changes, if needed after testing.
Network Products, Inc.: Your Trusted Source for WAP Cabling Installation and Networks
Whether your existing network needs to be replaced, upgraded, or expanded, or is in need of WAPs because you have none, our specialists at Network Products, Inc. can help your company. Our highly trained team can perform a thorough site survey, design, and build a WAP network that suits your needs and budget. We also offer maintenance packages for clients who wish to have a more hands-off role in the running of their network. Talk to one of our team members today to learn more about how we can maximize your network's effectiveness with WAP cabling installation Charlotte NC companies trust.