Cabling Solutions, Cable Tray Installation, Data Center Cabling Installation, Fiber Optic Cabling, and More – Northern Virginia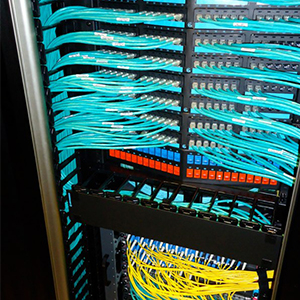 We at Network Products, Inc. provide the top cable tray installation Northern Virginia offers in terms of speed and quality of service. NPI has years of experience improving business' data centers in the Northern VA area through fiber runner installation, AV cabling, and fiber optic cabling to facilitate flawless data entry while maintaining your business' information security. Your data center is vital to the function and growth of your business, and NPI focuses on optimizing your current system to build a trustworthy infrastructure for data management both now and as you expand. Our cable tray installation systems provide the best data center cabling installation Northern VA offers through innovative wiring technology.
Cable Tray Installation NOVA
The AV cabling Northern Virginia region features the newest wiremesh cable technology. The concept behind wiremesh cable tray technology is to build an adaptable wiring that enhances performance while maintaining the integrity of your data center system. Our cable tray installation Northern VA package works to adapt wiring to the often-complex configurations involved in a data center.
Fiber Optic Cabling NOVA
Our systems are able to withstand stresses due to weight while providing a fitted, full range of connection. Our fiber runner installation Northern VA package employs the industries newest Infinium Fiber Connectors which are reusable pre-polished connectors with low-loss signal allowing for speedy data transfer. Through our top of the line AV cabling Northern VA package, your business will not have to be concerned with data center malfunctions and can focus on growth and generating sales.
Data Center Cabling Installation NOVA
The data center is a vital part of the function of your business, and we understand that your data center requires optimal wiring and cooling systems in order to facilitate the receiving and transmitting of mass quantities of data. Our data center cabling installation, Northern VA package addresses one of the major factors involved in optimization of data: consistent and dependable writing.
Cabling Solutions Northern Virginia can Rely Upon
It is vital to have the highest quality cables and wiring available so that your business is able to access information hassle free. NPI offers the highest quality cable installation Northern VA has to offer. If your business or data center requires fiber optic cabling Northern Virginia region, be sure to give us a call for a price quote and consultation.