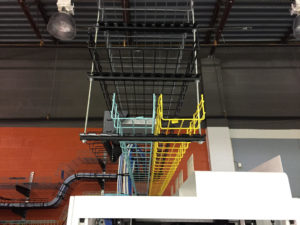 At Network Product Solutions, we are dedicated to manufacturing solutions for firestop challenges. We take the time to investigate the problem and then construct systems and products that meet the needs of our clients. As a result of our commitment, we yield truly innovative products that are paving the way for positive industry changes. We always do what is right, what will be best for the long-term, and what will strengthen client partnerships.

The Support We Offer
We provide support to our distributors, customers, and salesforce so they can reach their firestopping goals. We are currently rolling out new campaigns that speak to our core values. If you need assistance with any of the following services, don't hesitate to contact us today:
Advertising
Web Tools
Promotional Videos
Webinars
Social Media
Education
Email Marketing
Trade Show/Events
Distributor Support
Press Releases
Case Studies
The EZ Path Product
An example of an STI product that we have proudly manufactured is the EZ Path, which was engineered to reduce time spent on resources in addition to decreasing costs. The design is self-dealing and simple, with a powder coated and sturdy outer casing made of steel and self-sealing pads. It is straight-forward to install and was created to handle changes, adds, and moves.

The pads adjust to the load of the cables, the square shape permits more cable capacity, and the large wall plates allow round or square openings. We took the time to ensure that the design would be efficient for clients, reducing the amount of floor space taken up after installation. The EZ Path uses less space, while enabling more capacity for cables. The EZ Path device keeps your cables organized, so you won't have to worry about them getting mixed up and crossed within the barrier. And, you'll never have to remove sticky sealant or unscrew anything, keeping your walls and floors damage-free.
Frustration-Free Maintenance
There is perhaps nothing more frustrating than something going awry and needing to call a maintenance worker to inspect wiring. This can really put a damper on the workplace by interfering with work flow. With the EZ Path Series (22, 33, and 44+), you won't have to get these Fire-Rated Pathways inspected for routine maintenance. When properly installed, the device is maintenance free!
Network Product Solutions Core Values
By relying on Network Product Solutions or your protection systems, you are safeguarded from the spread of hot gases, fire, and smoke. Our team has collaborated with professionals in the construction industry to provide simple solutions to firestopping issues. Our products are manufactured to deliver dependable performance. And since our systems are user-driven, they are significantly more easy to apply and install. It is important to us that our potential clients understand our core values:
Delivering top-notch technical support
Maintaining a workplace culture of respect, integrity, and teamwork
Seeing to it that our employees develop professionally
Provide a service experience so that it is as fun and easy as possible
Compared to other companies, our services are unmatched. Please contact Network Product Solutions today to hear more about what we offer and how we can help you!