When you are looking for the best data center cabinets Maryland businesses count on, look no further than Network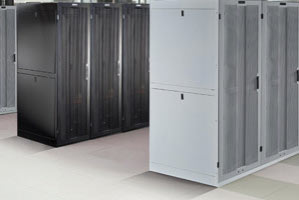 Products Inc (NPI). We have helped a wide range of companies since 1986 and have earned a solid reputation for being one of the most reliable and technically savvy organizations in the Mid-Atlantic region. With more than four decades of combined experience in a multitude of industries and projects, you can count on us to provide you with premier data center cabinets in Maryland.
How to Choose Data Center Cabinets Maryland Building Owners Trust
There are many factors that companies may need to consider when choosing the right cabinet for their building's server room. Two of the most critical factors are what type of IT equipment will be stored in the cabinet and how much space is available for the cabinet itself.
When you are considering different data center cabinets Maryland IT experts rely on, you want to make sure that the cabinet can clear all of the building's areas it will travel through before installation. Some of these areas may include the loading dock where the cabinet will be delivered, the path to get to the server room where the cabinet will be stored, and of course, the doorway entrance to the server room itself.
If there are constraints on space or there will be more equipment stored in the cabinet than a standard-size cabinet can hold, it is possible to order custom cabinets that can be made to the specifications that your organization requires.
Another factor that an organization should consider when choosing a cabinet is the type of data center that is going to be housed in the cabinet or cabinets. NPI can assist in your cabinet choice for your type of data center including:
In-House: When an organization designs, builds, and operates their own data center.
Colocation: When an organization has multiple tenants renting space in their data center.
Wholesale: When an organization rents space to tenants. Typically, there are fewer wholesale tenants than in a colocation.
Dedicated: When an organization rents space to just one tenant.
Some of the different styles of data center cabinets include:
Four-post server racks
Two-post relay racks
Portable server racks and cabinets
Colocation server cabinets
Air-conditioned server cabinets
Quiet and soundproof server cabinets
Seismic server racks
Cable network racks
NEMA certified enclosures
Network switch cabinets
Call Us to Learn More about Data Center Cabinets Maryland Companies Depend On
If you are ready to install top-notch Maryland cabinets for data centers, contact NPI today. Let our expertise in infrastructure planning and design for corporate offices, campus complexes, and data centers assist you in running the most efficient and technologically-advanced operation available.
In addition to data center services, NPI offers many other services including design assistance, digital buildings, and cabling solutions. We provide services for clients in Maryland, D.C., Virginia, North Carolina, and South Carolina.
Call (301) 548-0300 for more information on NPI's data center cabinets Maryland businesses recommend.